April was a major BUIDL month for Injective. With the Injective Hackathon in full force, it comes as no surprise that building out the ecosystem was on everyone's minds.
This month, Injective completed many meaningful integrations. From liquid staking with Stride, dual rewards on Astroport, integrating Polkadot with the Cosmos ecosystem for the first time, Solana applications migrating to Injective, to a Tencent Cloud collaboration, the Injective ecosystem and chain continued to grow, pushing out its mission to provide the leading decentralized network built for finance.
The Injective Hackathon also garnered a significant degree of attention, with multiple panels and workshops occurring each week, teaching new developers how to build their dApps on Injective. As the hackathon nears its end, May will see the fruits of April's labor and we look forward to seeing a host of amazing projects join the Injective ecosystem.
For a recap of April, check out this highlight reel 👇
Highlighted News
Injective Releases Liquid Staking with Stride
1/5 $stINJ is now live 🎉

For the first time ever, @Injective_'s INJ can be liquid staked 🔥https://t.co/pd2UxRhptk

And don't forget about the airdrop to INJ stakers!

Exciting details 🧵 👇

— Stride (@stride_zone) April 3, 2023
Injective has launched liquid staking for the first time with Stride. With liquid staked INJ (stINJ), users can obtain staking rewards while also earning yield across DeFi (e.g. lending, trading), increasing utility for INJ as a whole.
To celebrate this launch, Stride is airdropping 100,000 STRD tokens to Injective stakers. Check here for more airdrop details.
Celer cBridge Integrates Injective to Enable Cross-Chain Asset Transfer
Celer has integrated Injective, bringing novel assets from a wide range of layer-1 and layer-2 networks into the Injective ecosystem.
With this integration, Injective now has one of the most extensive cross-chain connections among all blockchains in the industry.
Injective Integrates with Astar and Polkadot Assets
🌟 Exciting news from Astar Network and @Injective_! 🥷

We have connected the @Polkadot & @cosmos ecosystems. Bringing new assets and new possibilities to Astar!https://t.co/dHps7weWZl pic.twitter.com/izQTP4jzWc

— Astar, Future of Smart Contracts for Multichain (@AstarNetwork) April 27, 2023
Once the Celer integration was complete, Injective was able to integrate Astar to enable support for ASTR assets to be bridged through cBridge. This integration not only allows native Polkadot assets to integrate with Injective but also strengthens its position as the primary gateway for cross-chain assets to enter the IBC world.
First Injective Global Virtual Hackathon Started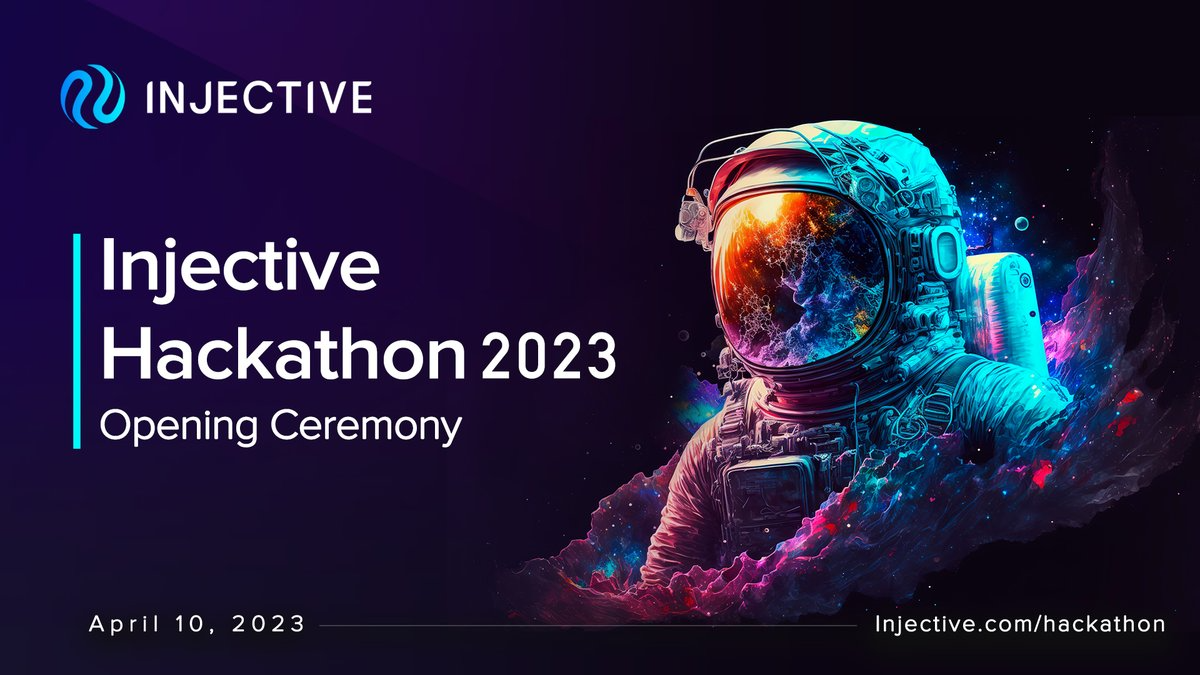 The Injective Global Virtual Hackathon, which kicked off on April 10th with a opening ceremony, has been highly anticipated and is the ultimate builder eent for creating next-generation DeFi applications. Supported by the Injective Ecosystem Venture Group, the four-week hackathon features five bounty programs with Wormhole, Pyth, Notifi, Eclipse and Frontrunner, as well as up to $1M in prizes and seed funding to further support builders!
Injective has also partnered with Tencent Cloud, the cloud business of global technology giant Tencent, to offer cloud credits to encourage more developers to participate in the hackathon.
To make sure you catch up on all Hackathon events, check out any one of the Twitter Spaces and workshops that have occurred since it started.
Injective hackathon panel sessions:
Technical workshops: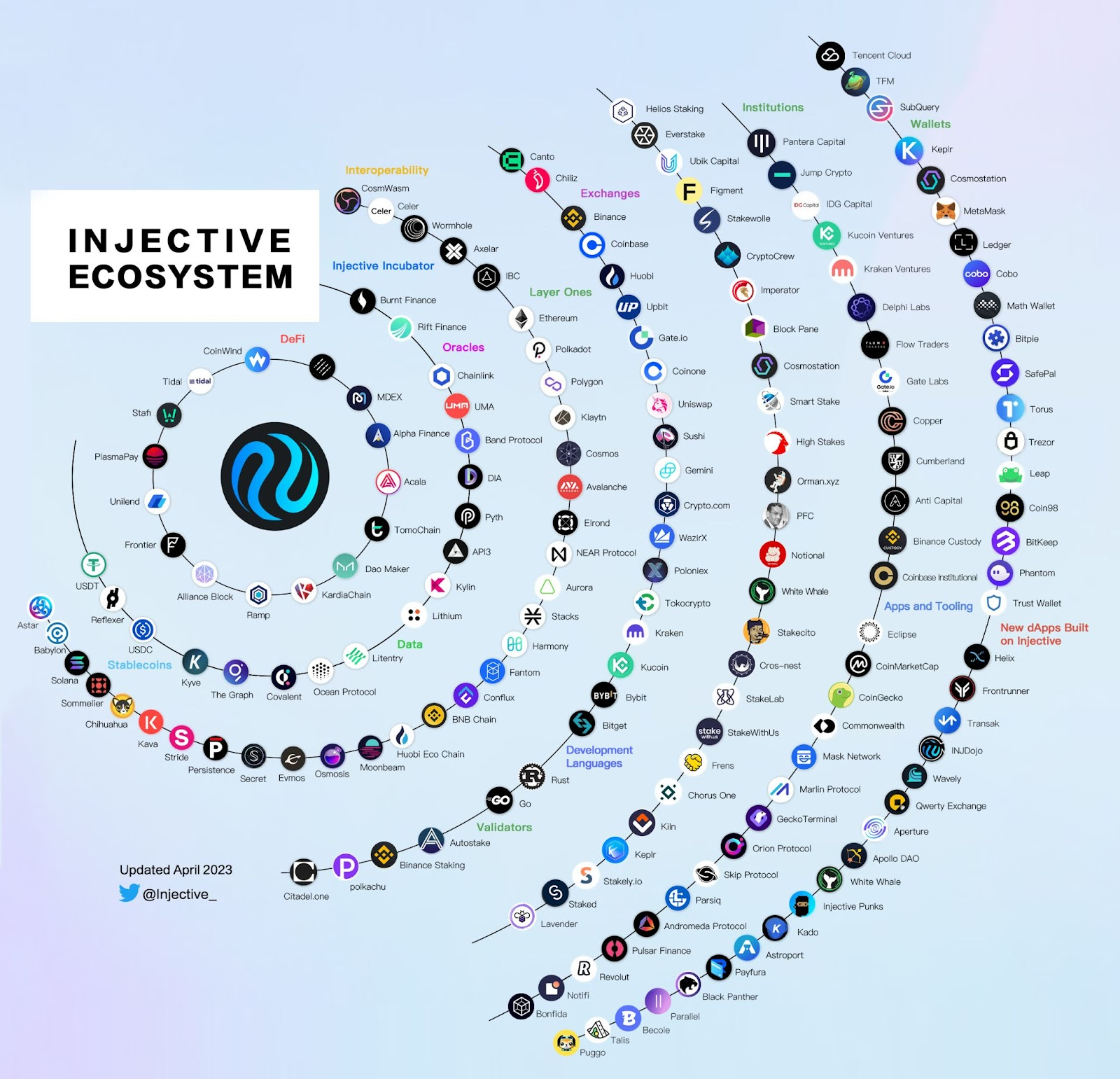 Helix: More RWAs & PnL Card
The latest feature on @HelixApp_ is live!

You can now easily share your performance for any position or market at the click of a button. pic.twitter.com/nS7AnQF1ih

— Helix 🧬 (@HelixApp_) April 24, 2023
As the Injective ecosystem continues to grow, Helix has become not only the largest on-chain orderbook DEX within the Cosmos ecosystem, but also the go-to destination for trading any on-chain asset with just one click.
With the integration of Pyth, synthetic assets like Gold (XAU) and Silver (XAG) have started appearing on the Helix testnet, and more truly decentralized RWAs (Real World Assets) powered by Injective are coming soon!
In addition to new listings available on testnet, Helix also pushed out a new feature - the PnL sharing card. The Profit and Loss (PnL) sharing card allows users to share the performance of any position or market with just a click of a button.
The new listings and features created the perfect environment to kick off a new user campaign with Aki Network, which helps onboard new users trade on Helix.
Get started on Helix:
Dual Rewards Live on Astroport
🛰️ UPGRADE DEPLOYED

Injective LPs can now see a full yield breakdown that includes $INJ rewards. Check the latest rates and liquidity by selecting the @injective_ network 👉 https://t.co/1nTtaOHH27.

Remember, rates are volatile and numbers may vary from the screenshot below! pic.twitter.com/Szx6CNAQh4

— Astroport ✦ (@astroport_fi) April 12, 2023
Since Astroport mainnet went live in March, an additional pool and more incentives were added, resulting in a surge of TVL that reached over $6.2 million by the end of April.
Injective liquidity providers (LPs) can now enjoy dual rewards on Astroport, as ASTRO and INJ rewards are now fully integrated into the yield breakdown.
Astroport has also added the stINJ-INJ pool with incentive rewards, in addition to the four existing pools: ASTRO-USDT, INJ-USDT, ATOM-USDT and USDC-USDT, which are still trending amongst users.  
Get started on Astroport:
Frontrunner: Rewards Program & Referral Campaign
Earn a share of 500 INJ between April 27th - May 11th.

📲 You'll receive a unique referral code & link in the app
🤝 When anyone uses your link & makes 25 trades, you'll both earn a share of 500 INJ when the promotion closes
💵 The more referrals, the quicker to mainnet you get pic.twitter.com/XmBOge88Vq

— Frontrunner (@frontrunnerxyz) April 27, 2023
Last month, Frontrunner, the premier sports predictions market on Injective, launched their app for both iOS and Android users, which has already garnered 1,000 downloads!
On the technical side, Frontrunner is developing a new open-source SDK that will enable a wide range of programmatic bettors to integrate seamlessly with Injective and Frontrunner, allowing them to submit orders in the betting markets and make bets in minutes.
In addition, Frontrunner released two programs this month:
A Rewards Program that allows users to climb the leaderboard and compete for rewards
A Referral Campaign that rewards users for referring new users to make trades on Frontrunner. The more they refer, the more they earn.
Download the app to participate in the campaign:
Apollo Safe Deployed MultiSig Protocol on Injective
Apollo Safe is deployed on the @Injective_ mainnet!

Builders and dApps can leverage @ApolloDAO to create multisig wallets for improved asset management, allowing institutions and sophisticated users to bring more capital into the Injective ecosystem.https://t.co/6CL9wpyx0F

— Injective 🥷 (@Injective_) April 19, 2023
Apollo Safe is a multisig protocol powered by CosmWasm smart contracts that deployed on the Injective mainnet to empower builders, dApps and DAOs to create secure and well-managed multisig wallets on Injective.
To get your multisig wallet, please head to the Apollo Safe website and choose Injective. You can either create a new multisig wallet, or add to an existing multisig wallet by entering the CW3 address and name.
Talis Begins to Create the First NFT Marketplace on Injective
Talis is excited to announce the proposal to deploy its set of smart contracts to Injective 🥷

The proposal will enable the deployment of Talis and its complete tool-suite to bring the first NFT marketplace on the fastest PoS L1.

Head to this link to learn more about it :…

— Talis Protocol (@ProtocolTalis) April 26, 2023
The Injective ecosystem is set to see the financialization of NFTs with the arrival of Talis, a user-friendly platform for minting, auctioning, and transacting NFTs. Talis is now seeking to deploy its smart contracts on Injective, leveraging one of the fastest chains in existence to further enhance its functionality.
Black Panther Brings Yield Strategies to Injective
Exciting news! Black Panther will soon be launching on @Injective_ 🎉

We are submitting a proposal to deploy our vault contracts onto the Injective blockchain 🫡

Here's what you can expect from us 👇 (1/5)

— Black Panther (@BlackPanther_Fi) April 19, 2023
Black Panther, an interchain asset management protocol, is developing a new dApp on the Injective network to create real yield strategies. These strategies will utilize on-chain gride bots to interact with AMMs like Astroport and White Whale, which will bring in new users and more liquidity into the Injective ecosystem.
Black Panther will demo their project during the Injective Hackathon's Demo Day, so be sure to stay tuned for updates.
Parallel Launched on Injective
Finally Parallel Front-end is Live! A decentralized Exchange Dapp proudly built on @Injective_ 🔥🔥🔥

✅ Mainnet Live
✅ Perpetual markets
✅ Spot markets
✅Trade in anonimity
💹 Forex Market Coming Soon! 👀

Revolutionize your trading experience with👇https://t.co/K4MkDhPwvO pic.twitter.com/jWiiKvs25A

— Parallel - NFT Coming Soon (@DexParallel) April 8, 2023
Injective has welcomed another new decentralized exchange to its ecosystem - Parallel!
This new exchange will also be included in Injective's weekly burn auction, in which 60% of fees collected from all exchange dApps are burned in a weekly auction. The burn auction is fully community-led and helps accrue value for the entire Injective ecosystem. More exchange dApps built on Injective will lead to more fees accrued and burned!
Bonfida Deployment Incoming
With the recent launch of Cascade, the first SVM rollup within the larger IBC ecosystem, Bonfida has announced that it is planning on deploying testnet smart contracts on Injective.
More to come soon!
Integrations with Injective
In April, Injective continued to broaden its reach with multiple partnerships, achieving higher levels of interoperability and reaching mass adoption.
New Validators Join Injective
Injective welcomed new validators Double Top, Bware Labs, and SCV Security into the Injective ecosystem in April. These new validators, along with existing ones, can be viewed on the Injective Hub where users can also delegate tokens to them.
Staking INJ on Injective Hub can help secure Injective's PoS network and is a great way to potentially earn APY and new rewards, including exclusive airdrops! View the INJ staking tutorial guide showcasing how to get started by using MetaMask wallet and Keplr wallet.
In addition, Atomic wallet, which has over 5 million users, also supports Injective staking to further decentralize the network.
April Injective Stats
The Injective Ninja Ambassador Program has attracted almost 30,000 ninjas since its launch over two months ago, with new ninjas advancing in the program daily, resulting in 713 Warriors and 142 Knights so far!
To foster community growth and engagement, the Injective Labs team organized a special community call at the end of April, where Knights and Lords were invited to join and participate During the call, the team shared the latest updates about the Injective ecosystem, discussed strategies for growing regional communities, and answered ambassador questions.  
Lords were also recently whitelisted to receive first access to the highly anticipated Project X!
The Injective community has expanded around the world with 19 regional communities, including Chinese, Korean, Vietnamese, Indonesian, Spanish, Turkish, Portuguese, Italian, Russian, Ukrainian, Polish, Greek, German, Nigerian, Arabic, French, Indian, Sri Lankan, and Kenyan communities!
Join the Discord now to level up and unlock new benefits and perks if you haven't done that already! Please be sure to read the complete program details here. The guide will serve as a handy tool for you and provides an overview of all program components.
Twitter Spaces
The Injective Labs team joined a few Twitter Spaces during the month of April to discuss the latest contributions to Injective, speak to ecosystem partners and provide commentary on the current industry.
Here is a roundup of the shows and Twitter Spaces from April:
Buzzworthy Community News:
Injective will join AwesomWasm this July in Berlin as a sponsor. Register now and hack your way to success.
🥳 Keep track of future updates on the Injective Discord, Twitter and Telegram.

About Injective
Injective is a lightning fast interoperable layer one blockchain optimized for building the premier Web3 finance applications. Injective provides developers with powerful plug-and-play modules for creating unmatched dApps. INJ is the native deflationary scarce asset that powers Injective and its rapidly growing ecosystem. Injective is incubated by Binance and is backed by prominent investors such as Jump Crypto, Pantera and Mark Cuban.
Website | Telegram | Discord | Blog | Twitter | Learn | Youtube | Facebook|LinkedIn | Reddit | Instagram |Orbit Newsletter